Make A Wish At Kroubetz Lakeside Campers
Gabe's Day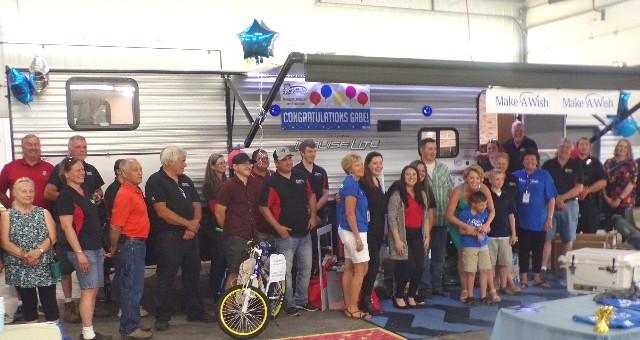 On Wednesday, July 17th Kroubetz Lakeside Campers partnered with Make-A-Wish Minnesota to make dreams come true for a little boy named Gabe. When our owner Kimberly Kroubetz heard about Gabe, she knew she had to get involved. Knowing he thrived in nature but that adventures had to be cut short, it hit home for Kimberly in a big way.
Kim grew up going on family camping adventures and remembered the amazing memories they brought. Seven-year-old Gabe from Le Center was surprised by Kroubetz with a party and a brand new camper! When Gabe showed up on Wednesday, you couldn't help but feel pure happiness for the opportunities the camper provided for the family.
Thanks to local businesses, they were able to go home with almost everything they needed for camping, plus extra goodies for Gabe! We were truly astonished at the donations and support that came in to assist in making this day extra extraordinary, a day that warmed our hearts.
The Kroubetz family had an incredibly memorable, once in a lifetime day that humbled the whole team! The community and our very own staff members truly made this a special day for Gabe and his family. The Kroubetz crew is proud to say we have now added a few more members to the family.
Welcome Gabe, Jake, Becky, & Quinn!
To read more about the day and the family, click this link!